Automatic Shade Measurement as you scan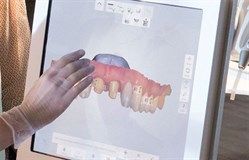 As you scan, the new TRIOS Color automatically, reliably and consistently measures the various shades appearing all over the teeth surfaces, and stores all the shade values together with the digital impression.
Dentists omit the extra step that comes with manual shade tak­ing using shade guides. The dentist has the option to evaluate and highlight relevant areas for the lab. The complete shade information is sent to the lab together with the impression and the lab can then analyze the shades further.
HD Photos for instant case images
With the new TRIOS, dentists can take high definition photos as they scan. The HD Photos make it easier to see and mark the margin line, and provide images for case documentation and communicating with patients. The HD photos are automatically packaged and sent with the digital impression to the lab.
Much more than a scanner
With 3Shapes latest innovations, the TRIOS solution has become a multifunctional digital solution for dentists that cre­ates 3D digital impressions, measures color shades of teeth, and takes intraoral HD photos for case documentation. And all of this case information can be effectively utilized by the dental technicians, helping them to design and manufacture restorations of the highest quality and fit.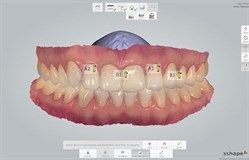 Many other new developments to 3Shapes TRIOS solutions
The new 3Shape TRIOS additionally presents support for implant bridges and removable partials, enhanced colors, improved detail capture, a new slim TRIOS Cart design with a multi-touch screen, and a chair integration kit.
ARE YOU IN CHICAGO? IF YES, THEN DROP BY 3SHAPES BOOTH AND SEE THE NEW TRIOS SOLUTION TODAY