The growing use of intraoral scanners by orthodontists provides orthodontic labs with a unique opportunity. By following suit and embracing digital technology, orthodontic labs not only have an opportunity to expand the range of products and services they offer, they have the means to future proof their business and remain competitive.
The attractiveness of a digital workflow - from the elimination of physical impressions to improving patient comfort – is motivating orthodontists to go digital.
When both the lab and orthodontists are digital-ready, they then can work together to improve diagnostic insight, treatment planning, as well as reduce treatment time. The orthodontists can outsource diagnostics and appliance design to the lab. Which in turn increases the profit margin per case for the orthodontist. Savings for the orthodontist that translates into more business for the lab.
For example, with most orthodontists charging in the neighborhood of 200 USD/hour, by outsourcing the treatment plan or appliance design to a lab that only charges 50 USD/hour, the orthodontist quickly reduces his/her own costs. The motivation for both, the orthodontist and the lab, to be digital-ready.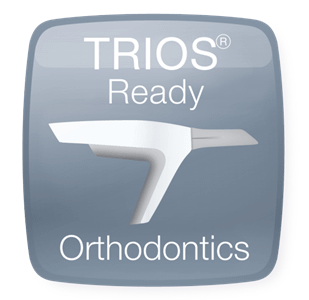 Here are six reasons to make your orthodontics lab TRIOS ready
1) Receive digital cases from orthodontists
Digitization is forever transforming orthodontics: ease of use and patient comfort are driving the adoption in digital impression systems by orthodontists. To future-proof your business, it is essential for labs to receive digital cases.
2) Reduce delivery and treatment time – improve diagnostics
The superior accuracy of digital impressions means more effective diagnostics and appliance design. This translates directly into fewer retakes and callbacks, patient visits and improved care.
3) Improve communication for diagnostics and treatment planning
The clinic and lab can work together as a team to define treatment needs by simulating and planning treatment – plus show and tell treatment plans with the patient onscreen.
4) Develop your business
For both clinics and labs, going digital means more opportunities. While clinics gain easy access to a larger selection of orthodontic service providers and appliance-makers, labs can increase their range of products and services by using the tightly integrated software applications offered by 3Shape. Ortho Analyzer™ enables treatment-planning services; Appliance Designer™ is a CAD toolbox for creating appliances to fit the patients' situation and 3Shape Communicate - a cloud-based file exchange solution, ensures a smooth and secure exchange of files between sites.
5) TRIOS open integration
TRIOS files can be exported in the open format (STL). This allows for integration with any compatible third-party systems and manufacturing equipment. It also means that the orthodontists own their patient records, which can be used by any system today or in the future.
6) 3Shape help your lab to qualify as TRIOS ready
3Shape has created a program for orthodontic labs seeking to promote their ability to offer digital orthodontic services. To get certified, a lab must be able to provide one or more of the following services based on TRIOS files to its orthodontic clinics: Model Manufacturing Services (producing physical models from intra-oral scan files), Treatment Proposal Services (simulation of potential treatment outcomes) and Full Digital Appliance manufacturing using CAD/CAM technology.
The digital need state
In a recent story, Dental Tribune International CEO and publisher Torsten R. Oemus described the industry's digital need state. In his quote, Oemus was referring to dental clinics, but his insight is equally relevant to both orthodontists and ortho labs: "Turning offices into high-tech playgrounds is indeed becoming a global trend, which reaps rewards for patients and dentists alike. Technology is what differentiates a modern dental office from a conventional one, increases patient flow, and advances diagnostic and treatment outcomes, which ultimately leads to increased revenues."
3Shape is supporting orthodontic labs to move to digital by certifying them and listing them on the 3Shape web site. As TRIOS rapidly becomes the computer-aided impression making (CAIM), intraoral scanner of choice for orthodontic practices, a TRIOS Ready certification opens up many new opportunities for labs.
To locate TRIOS Ready labs - https://www.3shape.com/en/services/ready-programs