New and powerful TRIOS digital impression solution
Last year at IDS in Cologne Germany, 3Shape astounded the market by presenting the TRIOS Color solution that creates highly lifelike color digital impressions. This year in Chicago, we will present a wide range of new features that make TRIOS even more attractive and profitable for dentists. As a part of their subscription, existing TRIOS owners can get a number of these features by simply upgrading their TRIOS software. Some of the new pre-announced TRIOS features are:
Dentists can take HD Photos as they scan, and use these for easy margin line detection, case documentation, and patient discussions.
Enhanced detail capture provides more details in the scan, particularly around the margin line.
Support for implant bridges cases and removable partials.
A new TRIOS Cart in a slimmer design and with a Multi-touch screen.
Chair integration solution to make TRIOS a natural part of the standard chair-mounted equipment.
And there will be more. We will additionally reveal some groundbreaking innovation surprises in Chicago.
Visitors will get a chance to try the TRIOS for themselves, and experience the systems lifelike color scans, extraordinary scan speed, high accuracy and unique ease of use.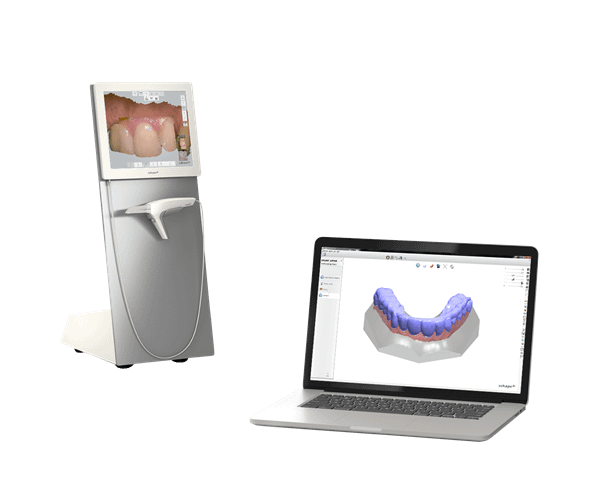 Dental System™ 2014 CAD software
3Shape recently released its Dental System™ 2014 which includes new dental indications, optimized workflows, and a new modernized user-interface. We have also added faster workflows, more automation, and powerful validation tools. Finally, we have boosted scan speeds and improved the integration with CAM software. See the complete list of new features in Dental System 2014 here: https://www.3shape.com/en/software/dental-system.
The new Dental System™ 2014 software is provided as an upgrade for 3Shape Dental System™ users as a part of their subscription and LABcare™ package.
3Shape desktop Lab scanners
Don't miss a demonstration of 3Shapes user-acclaimed 3D dental scanners for labs. The D900 captures textures in colors and boosts productivity with its unique multi-die scanning solution. Advanced technologies make this scanner extremely fast and accurate - and a great solution for high production labs working with all types of indications, including advanced implant restorations which require the utmost accuracy. See also 3Shapes D500, D700, and D800 scanner series.
New Splint Designer™ opens additional service options
3Shapes new software for CAD design of common dental appliances, such as occlusal splints all ready for output using 3D manufacturing machines and materials. 3Shape is offering this attractive Dental System™ 2014 indication to all Dental System™ Premium subscribers for free.
Implant Studio™ for implant planning and surgical guides*
Exciting new software that combines implant planning, prosthetics, and design of surgical guides ready for cost-efficient manufacturing. Implant Studio™ will be available both as an add-on module for integrating into Dental System™ and also in stand-alone configurations for in-clinic implant planning.
*Currently not for sale in the US.
3Shape Orthodontics™
3Shape Orthodontics™ provides digital solutions for orthodontic clinics and laboratories. Solutions include digital impression taking, 3D scanning, archiving, treatment planning & analysis, patient management, communication tools, and CAD appliance design.
Clinics – by using TRIOS, orthodontists can capture the intraoral situation including colors, thus omitting impressions and gypsum models. Includes software for diagnostics and treatment planning and tools for easy follow-up on treatment progress.
Labs can replace manual methods with 3D scanning, digital study models, digital treatment planning services, CAD appliance design, and CAM manufacturing.
See whats coming in the next 3Shape Dental System™ 2015 release
3Shape will give visitors a sneak preview at what is coming in the next major Dental System™ 2015 release expected to be launched at the end of 2014. Come to 3Shapes booth and get a copy of 3Shapes brand new brochure describing both current 2014 and coming Dental System™ features.