Like a Hollywood film, the upstart son passionately fights with his father over the family business needing to take the technological leap. And true to the script, the son's vision and hard-headedness eventually earn the grudging respect and admiration of the father. Best of all, it's a happy ending as the move alters the fortunes of the family business.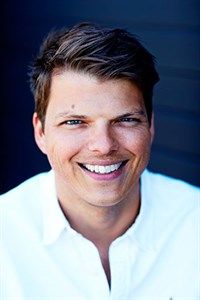 Schmidt Dental Lab in Horsens, Denmark, had adapted CAD/CAM technology about ten years ago. Ejner Schmidt, the father, always wanted to stay ahead of the game and embraced new technology. However, when his son came to him with a radical idea: model-free crowns, trouble erupted.
The family lab was already renowned for its craftsmanship and hi-tech service. However, the idea of going even more digital: creating model free crowns, in essence giving up control of their artistry, and even worse, creating a product for half the price, was abhorrent to the father.
Sune, the son, was insistent. He felt the family's lab was not taking full advantage of what their CAD/CAM system could do. The machines were just producing the same product they always did.
What motivated your lab to go model free?
During this time, a customer approached me regarding model free crowns. He wanted to know if I could create crowns faster and perhaps, even cheaper?
Over the years, I saw our lab molar and pre-molar businesses disappear to low-cost labs abroad. Danish labs just couldn't compete on pricing. That adversity leads to inspiration.
I spent eight months testing systems, specifically milling machines, from November 2012 through August 2013.
We had previously outsourced our milling. However, to realize our vision of producing inexpensive model free crowns, then milling needed to be done in-house. That required testing to learn how to control milling parameters.
When looking back on the period, it's funny how much time I spent hiding in the corner testing software and calibrating milling machines. I was virtually invisible at work but my father let the experiment run its course.
Esthetic and functional results without a model: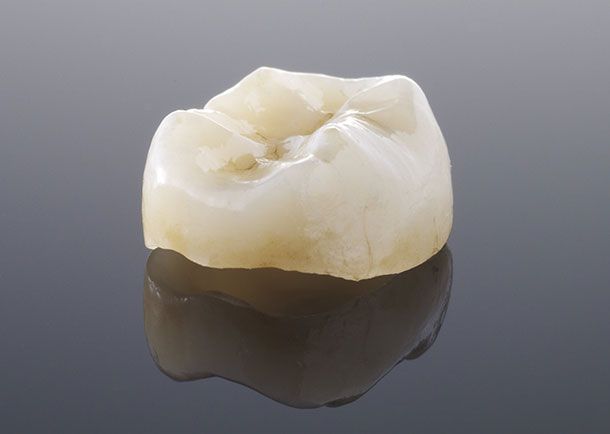 What made model free crowns possible for you?
First, we needed to find an open CAD system. That way we could select whatever milling machine, we needed.
Having the freedom to choose was very important to us. We did not want to be locked to a specific provider. Our goal was to buy the best milling machine on the market. Not buy one because it had to be compatible with our software.
Secondly, we needed to be sure we could rely on the accuracy of the digital impressions from the dentist. We needed to be able to work with the scans easily in our design software.
Of all the systems I tested, 3Shapes openness and workflow were the most attractive. You have TRIOS and the Dental System™ CAD/CAM software made by the same company.
You don't need two different partners. You know that the support is there if something doesn't work. One office to call if you have any questions.
In theory, because of its openness, we knew we could accept files from dentists with other scanners. However, after completing the testing, we ended up working only with TRIOS scans. We felt that they produced the best impressions and have since, based our business model on dentists using TRIOS.


Was it easy for technicians to learn to work model free?
It was very easy for us to learn to use the software. I think it might due to our age. My generation grew up with technology. Whereas, my father felt it was more difficult.
However, it was still tough for our lab to adapt to model-free crowns initially. You have to remember, we are a family business.
Traditionally, my father and I check every crown by hand we sent out. We still do it. We check the contact point, the height, etc… To suddenly have a finished crown with no way to control it; I still cringe a little when we are ready to send an order or have a new customer that we are shipping to for the first time.
Not having a model to control the fit is hard in the beginning.
I had to trust all the testing I did. We learned a lot from those first few months.
Our workflow now is really smooth. Everybody knows what to do – from when the order comes in, to when it ships - we are all in-sync.
Traditional crowns used to take 5-6 days to complete an order. It now takes 72 hours. That's a big difference for our customers. Spending less time in the lab is certainly a big advantage.


Is it a question of trust with model-free crowns?
As a lab, you earn the trust of your customers over time. We did not want to risk that trust.
Likewise, with modeless restorations, we had to be confident that the crowns we produced were correct despite being unable to control them with a model.
Most labs consider the gypsum model as insurance when checking if the restoration is correct. After making hundreds of model-free crowns over the past year, I found that in reality, the model is the weakest link.
A model-free solution is very reliable. In fact, more so than the designs with models. Our customers tell us that the fit and accuracy is often better than with models.
I hate to admit it, but most of the time it's the hands of the technician that makes the errors and not the machines.
When I make a model-free crown now, and at times create a model to check it with, its usually the contact points that need changing. This is because of inaccuracies inherent in the model and not the crown. The models are where the errors come in. Machines only do what they are told.


What is the success rate with model-free crowns?
From August to May this year, we produced 989 model free crowns. So far, we have had approximately 1% remakes. Most of them from when we first began. That is a lot better percentage than we experienced before.
As technicians, we see with our hands and evaluate by touch and feel, which is fantastic. You cannot underestimate the value of handcraftsmanship – but you also cannot be blind to what a digital system can do – model-free means precision.


As a lab, how has going model-free benefited your business?
The biggest advantage is, of course, the growing interest for model-free crowns. Like most labs, we saw our business disappearing to low-cost labs abroad. Model-free crowns have given us a chance to not only compete but also beat the competition.
Model-free crowns have benefited our business by making our workflow more effective, cutting down on man-hours, speeding up turnaround time and importantly, increasing our market share.
Before we began with modeless restorations, our milling machines produced the same thing as our competitors. They weren't providing any big benefit.
Model-free crowns save us half the price in production. It's not the lack of having a model that we save money on. Its labor and time. Although there is, of course, savings on models and storage.
But by going model-free, we now see the money invested in those machines coming back to us. They add value to our business.


How did you set up your business model for model-free crowns?
I always dreamed of creating an inexpensive product. A product that we could produce in-house and one that met the quality standards Schmidt is known for.
I knew that there was potentially a giant market for cheaper prosthetics. It just hadn't been possible in Denmark or Europe because of the high labor costs.
If you think about it, e.max costs approximately the same no matter where you buy it. To lower our costs, we needed to be more efficient production-wise.
My idea was to create two types of crowns: one basic called express; the other more detailed in terms of shading – a better class product – express plus.
This would enable me to lower my prices as far as possible and ensure that even if competition came along, they couldn't undercut me.


Has your providing modeless restorations become an incentive for dentists to work with you?
Model-free crowns are definitely an incentive for dentists to choose us. It has opened up a completely new market.
Before, our growth was typical, one or two new customers per year. Since August last year, we have added 25 new customers – so it has been a very big increase. In fact, I have never seen so big and fast a raise from any of our products than with model-free crowns.
We have a story to tell now. Customers see and hear from their peers that it actually works.
Being model-free has managed to separate us from the pack. It is basically, the first time in history that you are able to produce a crown so fast and this cheap in Denmark.
The accuracy, low price, and speed of delivery have become our lab's strongest selling points.
We will never forget the good old handiwork of the technicians, but this is definitely the big market of the future.


How do you feel model free crowns benefit dentists?
The biggest advantage of dentists is the low price and fast delivery. Customers are amazed at how easy it is. Fit and accuracy is also outstanding.
We are talking about 72-hour turnaround time. If it's not model-free, it's 5 to 8 days. The speed of delivery makes model free crowns very attractive to dentists.
In a dentist's mind, once they have made the preparation it needs to go quickly. So the speed in which we deliver the crown is definitely attractive. Of course, the price matters, but being able to deliver a crown quickly to their patients is an advantage. And importantly, it is a crown that fits. Model-free crowns fit better than when we use models.
At present we sell two types of model-free crowns. Both are made from Ivoclar e.max. Our express crown comes in classic colors A1, A2, etc.
With the express plus orders, well bring in a technician to match colors. It might also involve bringing in the patient to perform a shade test. Either way, we still meet our 72- hour turnaround time.


Do you believe that model-free crowns will become the norm in the near future?
I think the numbers speak for themselves. We are now working with approximately 27 clinics with each having 2-3 dentists in them. That is tremendous growth for one year. The growth that is driven by model-free crowns, in our case.
Our machines now run 14 hours a day whereas before, they would sit around doing nothing from time to time.
Price, accuracy, and speed of delivery are driving the demand. Model-free works. And the news is spreading by word of mouth throughout our network. We have no plans to drop our traditional services but model free is definitely fueling our development.
For example, we have made model-free front teeth. But they are difficult. There are many characteristics to front teeth mostly due to the nuances with color. They don't necessarily fit in with our express crown concept.
But you can definitely create model-free front teeth. We have, in fact, produced approximately 20 so far. It's just a question of milling and then stains and glaze. The extra work required puts them in our express plus product category.
So to answer your question, I do believe that model-free crowns will definitely become the norm as clinics realize the advantages for both they and their patients.
You know my father thought I was crazy in the beginning. But now, he is just very proud of what his lab is doing.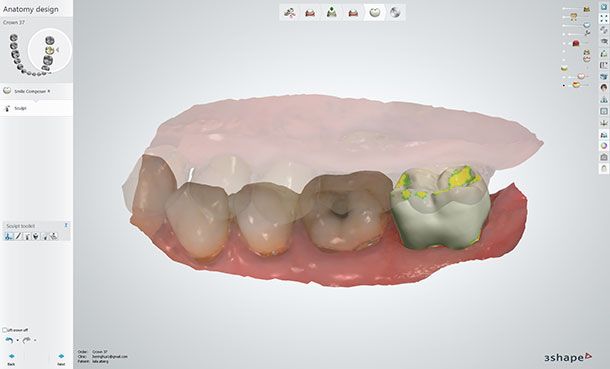 Designing the model-free crown in Dental System™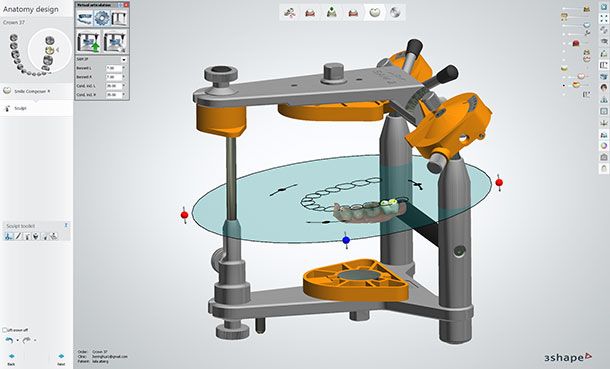 Use Dental System™s virtual articulators for designing with optimal dynamic occlusion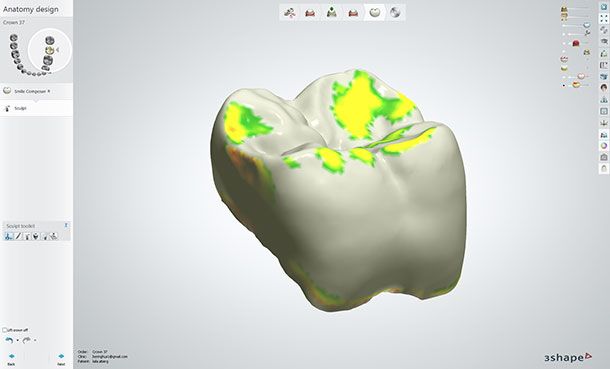 The final design of the model-free crown