The latest 3Shape Ortho System™ 2013 has been in use since January 2014, and users report high satisfaction with the new and intuitive user interface, and also the ability to leverage their existing DICOM data in their treatment planning – among all the other new smart features in Ortho Analyzer™.
"The new 3Shape Ortho System™ supports our goals to give users a product that broadens their business opportunities and offers a higher level of productivity. In this release we strongly focused on the users' experience through interface optimization and further integration into other 3Shape products"- says Flemming Thorup, President & CEO at 3Shape.
Latest key features in Ortho System™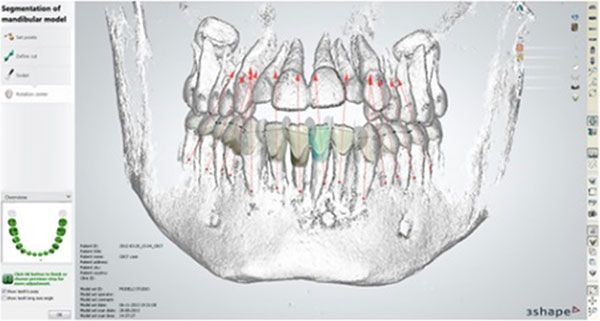 New user "workflow-driven" interface
An updated interface design ensures smoother and easier workflows, including walk-through guides and transparency sliders for improved visualization of the model.
Ortho System™ applications now support scans from the 3Shape TRIOS Color intraoral scanner. Users can scan, plan, analyze and design directly and in natural colors using TRIOS digital impressions as input.
R900 desktop scanner support
3Shape Ortho System™ 2013 now supports the R900 desktop scanner. Scanning with the R900 captures the model's colors and texture, creating high-quality designs in Appliance Designer™.
With Ortho System™ 2013, users can load 2D images in a 2D cross-section in order to align them with 3D patient models. These images can include dental arch shapes, X-rays and intraoral photographs that help to define the tooth axis and give increased insight during orthodontic analysis and treatment planning, etc.
Easily import and align DICOM CT scan data into Ortho Analyzer™ and define the rotation centers and tooth axes of the patient for increased precision with virtual setups.

3Shape Communicate integration
3Shape Communicate enables referring dentists, orthodontists and orthodontic laboratories to conveniently and efficiently exchange case communication – saving time and ensuring optimal results for the patient.
The new Model hollowing tool in the Appliance Designer™ saves material during manufacturing. It also includes a tool for creating drain grids.
Orthodontic appliances using Dental System™
3Shape Dental System™ users in labs can now create occlusal splints using the integrated Splint Designer™ module – a limited version of – Appliance Designer™ which is 3Shapes unique CAD toolbox for orthodontic appliances.
Updated virtual setups measuring tool
Ortho Analyzer™ provides measuring tools in the virtual setup section to allow you to accurately track tooth movements in real-time.