Step up to 3Shapes Midwinter Meeting booth and get a live demo of 3Shapes digital solutions and workflows. Try your hand at intraoral scanning and experience how easy it is to create lifelike digital impressions in colors with 3Shapes TRIOS. Our products will be set up to simulate real-life configurations, demonstrating how TRIOS allows dentists to utilize complete digital workflows together with either their in-house lab, or their external service lab - or both.
The new TRIOS brings more power and more possibilities
3Shapes successful TRIOS digital impression solution has been boosted to include whole new technologies and tools. We can hardly wait to reveal our hottest innovation surprises on the Midwinter Meetings opening day. A number of the new TRIOS features are being provided through software upgrades, and thus will be available to current TRIOS users as a part of their subscription.
Experience complete digital dental workflows
Digital impressions are the first step in complete digital dental workflows. To demonstrate the power of the full digital circle, 3Shape staff will also present our latest CAD/CAM software and lab scanners.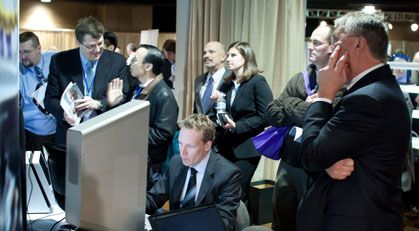 Midwinter Meeting visitors will experience firsthand the many restoration design possibilities, indications, digital models, splints, implant planning & surgical guide design, plus the range of new service options enabled by the market's most powerful dental CAD system.
Solutions for Orthodontics
3Shape has enhanced its digital solutions and workflows for orthodontic professionals in both clinics and labs. Come and see these innovative solutions that include TRIOS full arch scanning, orthodontic analysis, treatment planning, digital archival, and CAD appliance design.
Pioneering innovation to be unveiled on opening day
3Shape prides itself on always being at the forefront of innovation, and in tune with its traditions, We will reveal some entirely new and unannounced 3D digital technology features on an opening day. Be sure to pay us a visit on February 20th, 9.30 AM Thursday morning and be one of the first to hear the news.