3Shape recently presented its innovative solutions for orthodontic clinics and labs at the annual show of the American Association of Orthodontists (AAO) in New Orleans on 25-29 April. 3Shapes booth attracted numerous visitors from all over the world who received live demos of the TRIOS digital impression solution and 3Shapes advanced software for digital orthodontics. And many lab professionals showed great interest in the TRIOS Ready program – the easy way to get set up for receiving and working with TRIOS scans.
The AAO (American Association of Orthodontists) is the worlds oldest and largest organization within the orthodontic sphere. It embraces members from the US, Canada and worldwide. Each year, the AAO event attracts highly qualified doctors, lab owners and orthodontic specialists.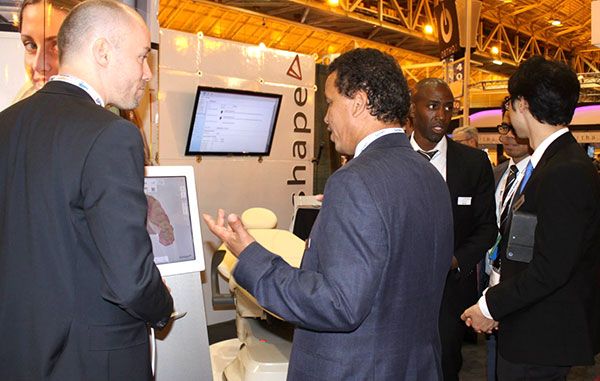 3Shape presented many new solutions for orthodontic labs and clinics, covering all aspects of orthodontic workflows. With TRIOS, orthodontists can easily scan patients in the clinic, create digital impressions in color, and omit the need for physical models.
Ortho AnalyzerTM lets them analyze cases and plan treatment right away, while seamlessly integrating additional clinical data such as 2D images (photographs and X-rays) and DICOM data from CT Cone Beam scanners.
Patient cases are sent to a lab equipped with compatible equipment who can offer new services such as treatment proposal, study model creation, or manufacturing of full digital appliances.
3Shape solutions for orthodontics:
Trios for Ortho System
Ortho Analyzer 2013
Appliance Designer 2013
3Shape Communicate
Trios Ready Program