Full anatomical monolithic restorations will, without doubt, play a major role in the future of the dental industry. CAD Blocks are key drivers for this development, and today we see labs and milling centers in selected markets embracing their use faster than anticipated. This has led to requests for easy and flexible ways to control and position designs inside CAD Blocks – and now Dental System 2013™ provides exactly that!
Dental System 2013s new CAD Blocks tool provides faster turnaround, optimal placement control, and easy multilayer color alignment. Users can now prepare and initiate optimal manufacturing by using CAD Blocks – all in a highly intuitive, seamless and automated workflow.
Lab technicians can now gain full control over the placement of the sprue to avoid improper placement in critical areas that can ruin design esthetics. Additionally, labs can easily align the block layers optimally across multiple teeth when using multilayer CAD Block materials. Finally, technicians that wish to readapt the design according to the block size, can easily do so while they are still in the design process.
Seamless workflow from design to manufacturing
Users select their CADblock material in the order form. After modeling, the software "virtually" places the CAD design inside a true representation of a CAD Block – one which is automatically selected according to the restorations size and the CAD Block type/material setup in the order form. With various tools, users can adjust both the position of the restoration inside the Block and placement of the sprue. They are guided by warnings if placement choices are too close to an edge or mandrel.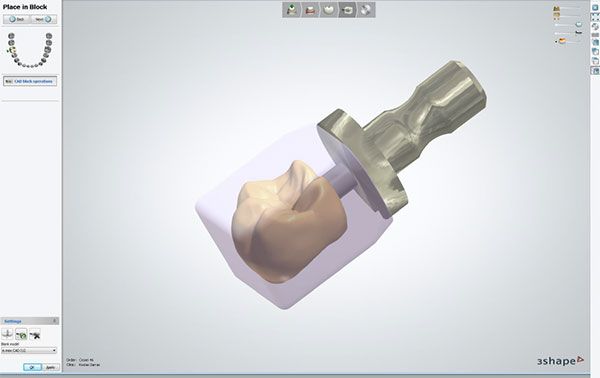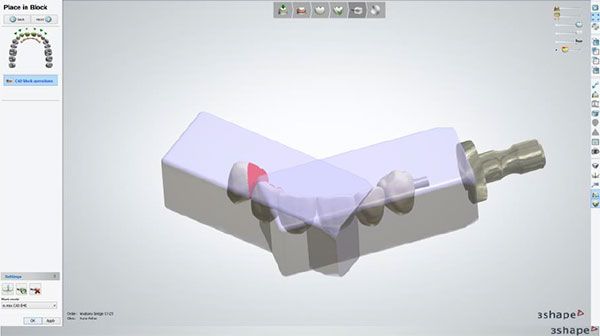 Using multiple blocks with long bridges -The user sets one or more reference points for dividing the design and the software places sections in different blocks accordingly.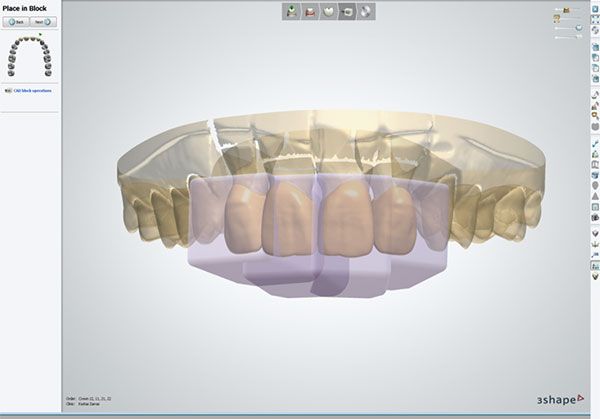 Place multiple anatomy designs in one or more blocks. With multilayer blocks, the lab can easily align block layers across multiple teeth.
Wide-ranging support for CAD Blocks and multilayer blanks
3Shapes CAD Blocks positioning feature supports a wide range of CAD Block types, materials, and sizes – from brands such as Emax, Vita, Lava Ultimate, Dentsply Celtra, Empress, and more.
Compatible with CAM software
Once the design is optimally placed in the virtual CAD Blocks, users simply press a button in Dental System™ to send the design directly for automated manufacturing. 3Shapes CAD Blocks solution supports a wide range of CAM manufacturing software, including 3Shape CAMbridge and various 3rd party software solutions.
The CAD Block features, options and tools include:
On-screen positioning guided by a distance map
Immediate warnings if positioning violates minimum distances for edge, mandrel or sprue
Users can adjust the size and position of sprues separately for optimal esthetics
Easy alignment of block layers across multiple teeth when using multilayer blocks
Support for cutting long bridges for placement in multiple Blocks
Option to readapt the design according to the block size while still in the design process