TRIOS Color awarded the Pride Institutes "Best of Class" 2013
3Shape recently received one of the highest honors given for its innovation in dental technology. The 3Shape TRIOS Color digital impression solution was honored as a "Best of Class 2013" winner by the prestigious Pride Leadership Panel. "Best of Class" is awarded to products which feature unique characteristics that differentiate them from their competition while also creating value for the general dentist.
The "Best of Class" Technology Award – rigorous selection process for utmost integrity
The Pride Institutes panel, comprised of leading voices in dental technology, comes together each year to discuss, debate, and decide which products merit recognition. The panel is committed to a selection method that is unbiased and adhered to rigorously. For example, panelists who receive compensation from dental companies are prevented from voting in that companys category. The selection process provides dental professionals with a product perspective totally untainted by manufacturer intervention.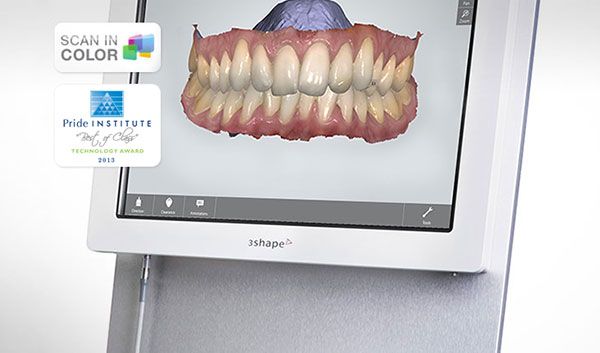 What they said about 3Shapes TRIOS Color solution
Dr. Lou Shuman, President of the Pride Institute and creator of the award and its selection process, said: "In this highly competitive category, 3Shapes TRIOS Color solution impressed the panel on many fronts. Scanning is fast and easy to perform, and it creates scanned images in the appearance of real teeth and gingiva with very natural looking colors. That it is so respected in the lab space should be a differentiating factor to the practitioner."
TRIOS Color at the "Best of Class" Technology Fair, ADA 2013
As an award winner, 3Shape TRIOS Color will be showcased during the Pride Institute Best of Class "Tech Expo" at the American Dental Associations Annual Session – to be held October 31 – November 3 in New Orleans. Visitors will be able to meet with all of the honored companies as well as members of the Pride Institute Award selection panel.