The TRIOS Training Center is a valuable knowledge base and a supplement to the TRIOS online manual. It provides learning and information about scanning and about tools in the system, using visual presentation methods. See animations that describe techniques for optimal scanning of a quadrant, full arch and bite for both preps and antagonists. View training videos describing a scanning workflow, useful tools, basic tips about scanning, and more. The TRIOS Training Center is integrated into the TRIOS software and can be viewed directly on the TRIOS Cart or TRIOS Pod laptop. The TRIOS Training Center will continuously be updated - so users should check for new content regularly.
To access the TRIOS Training Center on your TRIOS system:
1. Press Help

2. In the Help option menu, press the Training Center button

3. Choose a topic from the list of Training Center materials.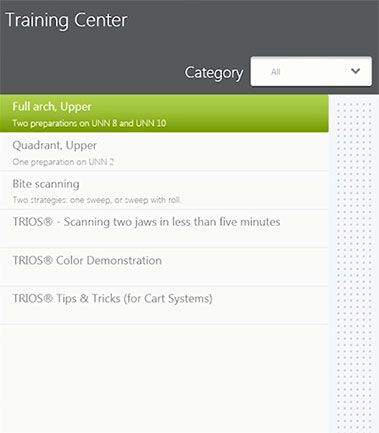 See instruction videos covering workflows and tools.

View animations showing scan techniques for smooth scanning and optimal capture.