What is TRIOS Ready?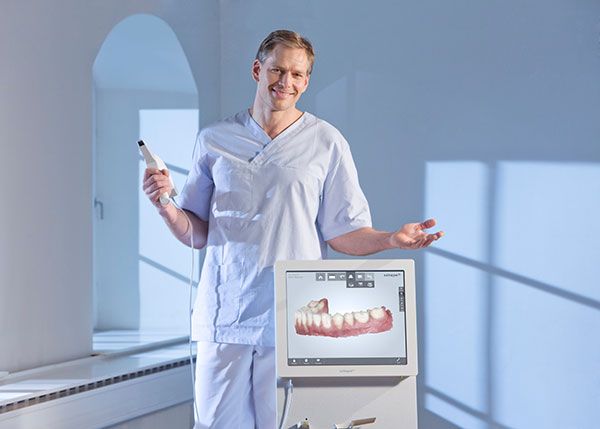 A dental lab that is TRIOS Ready is certified as being fully prepared to receive and handle digital impressions from clinics using the 3Shape TRIOS solution. The TRIOS Ready Program provides certification and an easy way to establish and try out the process of handling TRIOS scans.
A unique business opportunity for labs
The TRIOS Ready Program is a unique opportunity that helps labs widen their business scope and enhance their professional image. The program consists of an optional TRIOS Ready Seminar and a Trial Case so that labs can try out the workflow with close assistance from 3Shape representatives. This is a great opportunity for labs to receive expert training, become familiar with the tools, and test all processes related to working with TRIOS scans in the lab. In the end, participants can rest assured that they can smoothly and professionally service their dentists from the start without unexpected and embarrassing glitches. Many labs have already become certified through the program and use this fact to promote their business.
Join a live seminar event to kick-start certification
Since the programs launch in December 2012, over 20 TRIOS Ready live seminars have been held in 7 different countries, in many different cities, and in front of over 600 attendees. The seminars are a joint effort between 3Shape and local partners, and they are completely free. They efficiently introduce the certification program and provide basic information about working with TRIOS scans. New TRIOS Ready Seminars are being planned all the time. See the current program here
See also … I am a dentist – how do I find a TRIOS ready lab
3 reasons to join the TRIOS Ready program:
You get …
A free information seminar in your local area.
Free training and a trial case, so that you can set up and experience a complete TRIOS workflow guided by our experts before the real cases start ticking in.
A certified TRIOS Ready diploma and the TRIOS ready logo to use on your own marketing materials.
3 reasons to become TRIOS Ready:
You will …
Gain new opportunities to widen your customer base with the growing number of dentists using TRIOS.
Appear in the official Directory for TRIOS Ready Labs, so that dentists using TRIOS can easily find you and connect.
Enjoy the productivity and efficiency gains provided by the TRIOS solution including digital order forms, enhanced communication with dentists, faster turnaround, reduced logistics, and potential model-free crown cases.