Following up on the success of its CAD Points business model, 3Shape has recently expanded the range of modules that are payable with CAD Points to now include 3Shape Denture Design™ (Full Dentures) and Model Builder for TRIOS scans and 3rd party scans.
CAD Points is 3Shapes Pay-Per-Design business model, and it has been extremely well-received in the market since its launch last year. And no wonder …. CAD Points gives labs of any size easy access to advanced indications, allowing them to offer more restorations to their clients in a manner that is both cost-efficient and involves minimal investment risk.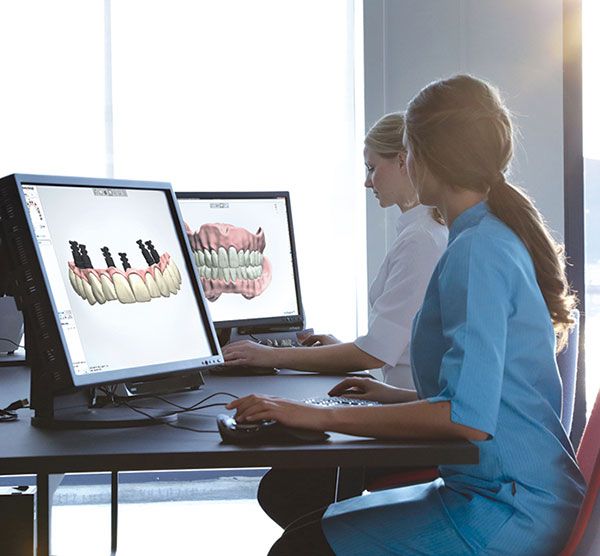 2 value-packed modules – Denture Design™ and Model Builder™
3Shapes Denture Design™ software brings digital precision and efficiency to a traditionally demanding technique process. By combining 3Shapes Smile Composer™ and the Gingiva Creation Tool, technicians can model highly esthetic and functional dentures while significantly shortening the design step.
3Shape Model builder™ lets you efficiently design models for many indications, including implant models directly from TRIOS digital impression scans, 3rd part intraoral scans*, and physical impression scans. Model Builder™ has been optimized for a wide range of manufacturing machines in close collaboration with known machine providers.
CAD Points are easy to acquire, use, and manage
Dental labs can purchase CAD Points through 3Shapes Webshop or through their 3Shape reselling partners. Just moments after, technicians can already use their CAD Points to pay on-the-spot for creating a new design.
The 2 new CAD Point modules are available for all customers running Dental System 2013, version 2.8.8.5 (or newer versions). Please contact your reseller for additional information.
5 reasons to like CAD Points:
1. Cost-efficient: Provides access to advanced design indications with no initial investment in add-on modules.
2. Minimal risk: Represents a safe investment solution for small labs just starting with CAD/CAM.
3. Flexible: You choose how to use your CAD Points – use flexibly for Customized Abutments, Implant Bars & Bridges, Removables, and now also Model Builder and Denture Design.

4. Durable: CAD Points never expire. Use them when the need arises.
5. Convenient - Purchase at any hour on the 3Shape Webshop – and keep track of their status in Dental System™.
* 3rd party scans currently supported: iTero and Sirona Cerec