What is Implant Studio™?
3Shapes Implant Studio™ is a software tool that allows dental professionals to plan implant positions using a DICOM CT scan and a surface scan. Dentists can use 3Shape TRIOS or other intra-oral scanners to create the surface scan, or the surface scan can be created with a lab scanner directly from impressions or models. As an additional option, dentists or lab technicians can apply the planning and scan data to design a corresponding surgical guide that is digitally-ready for local or serviced manufacturing on a 3D printer or milling machine. The surgical guide can be used by the dentist to ensure accurate drilling in the patient's bone – transferring the planned implant position to the patient.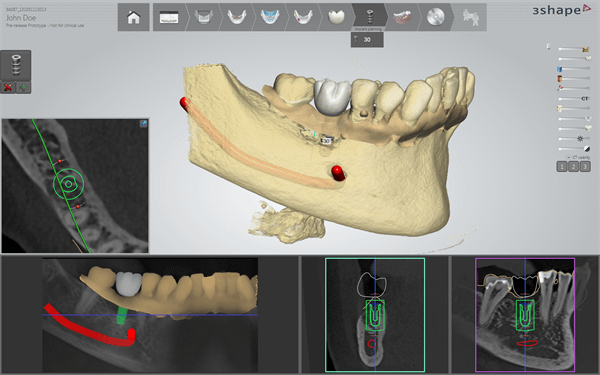 Place implants using the prosthetic design
Planning with Implant Studio takes an "esthetics and complete restorative point-of-view". Planning starts with the placement of virtual crowns in order to define the exact crown positions. Guided by this virtual perspective of the final result, users can virtually place corresponding implants while accounting for the complete clinical situation, including bone density and nerve positions. Optimal clinical results are achieved by iteratively updating and fine-tuning the combination of teeth and implants.
We have added more power to the solution
Since the initial presentation at IDS 2013, 3Shape developers have been working hard to enhance Implant Studio™ even further. "It is our goal to provide dental professionals with the most advanced solution of its kind," says Birk Plönnigs, Product Manager at 3Shape.
Latest enhancements include:
New tools and fine-tuning of workflows.
Integrating implant libraries from major implant manufacturers.
Integration of 3Shape Implant Studio™ with 3Shape Dental Systems™ design workflows – allowing labs to easily produce all the prosthetic components on their existing equipment.
Integration with 3Shape Communicate™ – to enhance the workflows and information flow between the clinic and the lab when working with implant cases.
Flexible choices with three software packages
To cover all business models and needs, Implant Studio™ will be available in 3 different packages:
Implant Studio™ (Full solution) - Dental System™ Integrated: An Add-on software package, with Implant Planner and Surgical Guide Designer. Completely integrated into Dental System™.


Implant Studio™ (Full solution) - Stand-alone: Stand-alone software package with Implant Planner and Surgical Guide Designer. Optionally connected to Dental System™ via 3Shape Communicate™.


Implant Studio™ (Planner) - Stand-alone: Stand-alone software package with the Implant Planning module only. Optionally connected to Implant Studio™ Full version or Dental System™ via 3Shape Communicate™.
Regulatory approval for the European market in place
The new solution has recently passed the rigid regulatory process required for market launch in Europe. We are currently working on approval in all major markets, and we expect to obtain clearance in the US and other selected markets during 2014.
Provides fast and high-quality treatment for patients
Depending on their business model and Implant Studio™ package, dentists and labs can provide fast services for their clients - potentially within a few days or less. One example scenario could be:
A patient comes to the clinic for acute treatment such as a broken or missing front tooth.
The dentist performs a CBCT and a TRIOS™ scan in the clinic.
The dentist uses Implant Studio™ software to perform implant planning.
The dentist sends implant positions together with the surface scan to the lab using 3Shape Communicate™ software.
The lab can immediately design temporaries or final prosthetics in Dental System™.
The lab can optionally design and locally manufacture a surgical guide for the dentist.
The dentist can potentially place the implants the next day, including optimal prosthetics – either temporaries or final crowns.
Implant™ Studio Highlights
Surgical Guides - Design cost-efficient surgical guides ready for local manufacturing.
Virtual Crown functionality - For optimal implant placement according to both aesthetics and clinical situation.
3Shape Communicate™ integration - makes it easy for labs to receive 3D surface scans in Implant Studio™ - from TRIOS and from 3shape from desktop scanners. And makes it easy for dentists to forward their planned implant positions directly to any lab using Dental System™.
Open software platform- Implant Studio™ supports open DICOM CT scans and STL surface scans as well as implant systems (libraries) from major implant manufacturers.
True 3D Experience - Advanced planning tools combine the benefits of planning in both 3D and 2D.
Dental System™ integration - After completing the planning, labs can directly manufacture restorations and implant components in a smooth and integrated workflow, e.g., temporaries, crowns, abutments, healing abutments and more.