Dental System 2014 has entered its final development phase, and the software is right on schedule for its release this December 2013. As with all our annual releases, Dental System 2014 will be offered to all 3Shape Dental System™ subscribers as part of their LABcare™ package. We cant wait to provide 3Shape users with all the superlative new features weve developed.
Here's a resume:
Optimized CAD Design Workflow and user interface
Dental System™ 2014 offers a whole new user experience with optimized workflows and a redesigned user interface for greatly enhanced user-friendliness. Now, restoration design becomes fast and easy, even for beginners and first-time users. Click on any step in the Workflow Bar to quickly navigate between the different design phases. With the new "Preview" button users can immediately see the implications of their design decisions before moving ahead.


3Shape Implant Studio™
3Shapes new Implant Studio solution brings together implant planning, prosthetics, and drill guide design. By integrating implant planning with Dental Systems design workflows, labs can provide complete treatment packages up-front. Implant Studio will be launched as a separate software module. Read more in this newsletters article "3Shape Implant Studio coming soon …"


Splint Module
Splints represent an attractive business model for labs seeking to expand their business with high volume products that are closely related to their existing offerings. The new Splint Module is optimized for fast and easy designs of occlusal splints.


Improved scanning user interface
A newly redesigned workflow progress bar carefully guides the user through each scanning step. It is also now easier than ever to move backward and forward between the different workflow steps – and to rescan individual dies if needed.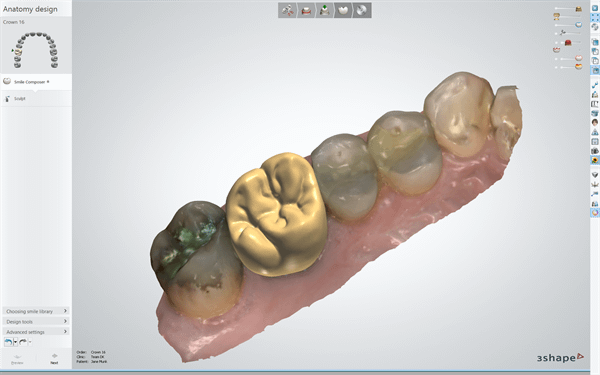 Optimized workflow for digital impressions
The 2014-release introduces an optimized workflow for working with TRIOS scans and other digital impressions. The user now starts by modeling the crown and, if needed, moves on to designing the lab model in Model Builder. The "prepare scan" step is fully integrated in the CAD design workflow, and it is only necessary to define the margin line once during the entire workflow.


Auto-crown functionality
Design full anatomical crowns that are automatically positioned and shaped to precisely fit the clinical situation. By using virtual articulators with Smile Composer™, only minimal manual modifications are needed in order to achieve optimal occlusion, contact points, and marginal transition area.


RealView™ Engine with new texture
The RealView Engine™ has been greatly improved with updated and close to photo-realistic teeth texture. Now your design looks even more real when superimposing the patient's actual face images in the design process.


Denture Design
The next-generation Denture Design module comes with improved smile-libraries in occlusion, fully optimized for digital denture design. A new teeth library selection wizard makes it fast to choose between different smile libraries, and improved design tools allow the user to easily adjust the patient-specific occlusion.


CAD Block integration
A new integrated tool allows lab technicians to virtually position their designs inside one or more CAD Blocks before manufacturing. Its easy to place multiple anatomy designs in one or more blocks. When using multilayer blocks, the user can easily align block layers across multiple teeth.


Cut-back gingiva on implant bridges
Apply the new "anatomy-first" workflow to design an optimally esthetic implant bridge with gingiva. Use the unique Gingiva design tool to define the gingival boundary, and then let the software suggest an initial form that can be refined. Cut back selected areas of teeth and gingiva to prepare space for hand veneering and acrylic layer.


Soft tissue models
The new Model Builder introduces a possibility for creating digital lab models with soft tissue. The feature will be available for both Crown & Bridge models and for Implant Models.


64-bit Application
The new true 64-bit application allows Windows to allocate a significant amount of additional memory for use in Dental System™ during scanning and design processes. This ensures a smoother workflow and prevents out-of-memory issues for even very advanced cases, such as very large multi-layer bridge cases.
These are only some of the new features… There is much more to discover in Dental System 2014!