Chicago, February 23–26, 2012. 3Shape was once again a magnet attraction at this year's triple Chicago events – CalLab, Midwinter and LMT Lab Day. 3Shape presented its coming Dental System™ 2013, the TRIOS® digital impression-taking solution, and held a wide range of demonstrations, training sessions and lectures.
The 2012 Chicago activities were kicked off the 23rd of February at CalLab's Annual Meeting where all the major dental industry players were present. Partners and customers alike came to meet and network with 3Shape's large gathering of representatives consisting of both sales and development staff from both the USA and Denmark offices.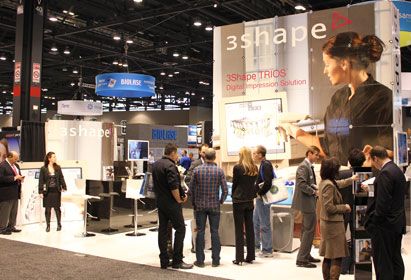 The Midwinter meeting event is organized each year by the Chicago Dental Society - an association for dentists in the Chicago area. Over 31.000 dental professionals and exhibitors were at the scene of this year's midwinter show at the McCormick Place West.

As expected, 3Shape's TRIOS digital impression taking solution attracted many dentists from all over the world. 3Shape hooked up a complete Clinic-to-Lab restoration workflow simulation with a TRIOS system on one end and a 3Shape lab with Dental System™ on the other. On the TRIOS side, our staff took digital impressions from complete jaw models and sent these to the "lab" side - directly into its InBox through 3Shape Communicate. On the lab side, 3Shape's dental technicians started designing the restoration right away.
LMT's annual Lab Day draws laboratory owners from all over the world and this year was no exception. The 2012 event was held at the Sheraton Chicago Hotel & Towers and the throngs of visitors to 3Shape's booth enjoyed live demonstrations of 3Shape's Dental System™. In a suite upstairs, 3Shape staff held hands-on CAD-design training sessions, presentations about the coming features in Dental System 2013, and industry-opinion lectures about how labs can stay competitive in today's challenging market.