3Shape was on-stage at the Sino-Dental exhibition in Beijing, 2011. The China National Convention Center was filled with an ocean of dental professionals from all areas of expertise, including dentists, dental assistants, hygienists, lab technicians, equipment dealers and more.
At Sino-Dental 2011, more than 630 enterprises from 21 countries and regions presented their latest products and services. 77 exhibitors from Germany, Japan, Korea, and the United States participated in the form of national business platform pavilions.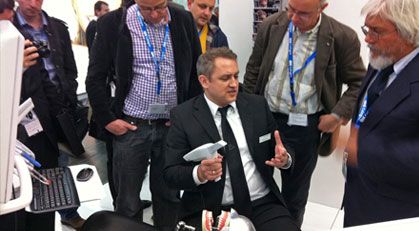 The high status of Sino-Dental was evident as the exhibition attracted many globally-known dental brands and companies, such as 3M, P&G, Kavo, Sirona, Osstem, Acteon, Colgate, Heraeus Kulzer Dental Ltd, Shofu, and Voclar Vivadent, and naturally 3Shape.
Many visitors showed particular interest in 3Shape's TRIOS and D500 series scanner. 3Shape staff held training sessions right at the booth, instructing visitors regarding how to use Dental System.
Many people came to learn about the new world of CAD/CAM and looked closely at 3Shape's products.
One of 3Shape's users, from a large dental lab, shared with visitors his experiences in using 3Shape scanners and software, and he emphasized that 3Shape's system is the most flexible and easy to use as compared with other systems offered on the market.
"The Sino-Dental exhibition was a great opportunity to promote 3Shape's latest products in Asia," says Ye Jin, 3Shape, General Manager, Asia. "And, judging by the many interested professional visitors to 3Shape's booth, we see many future possibilities in the region."