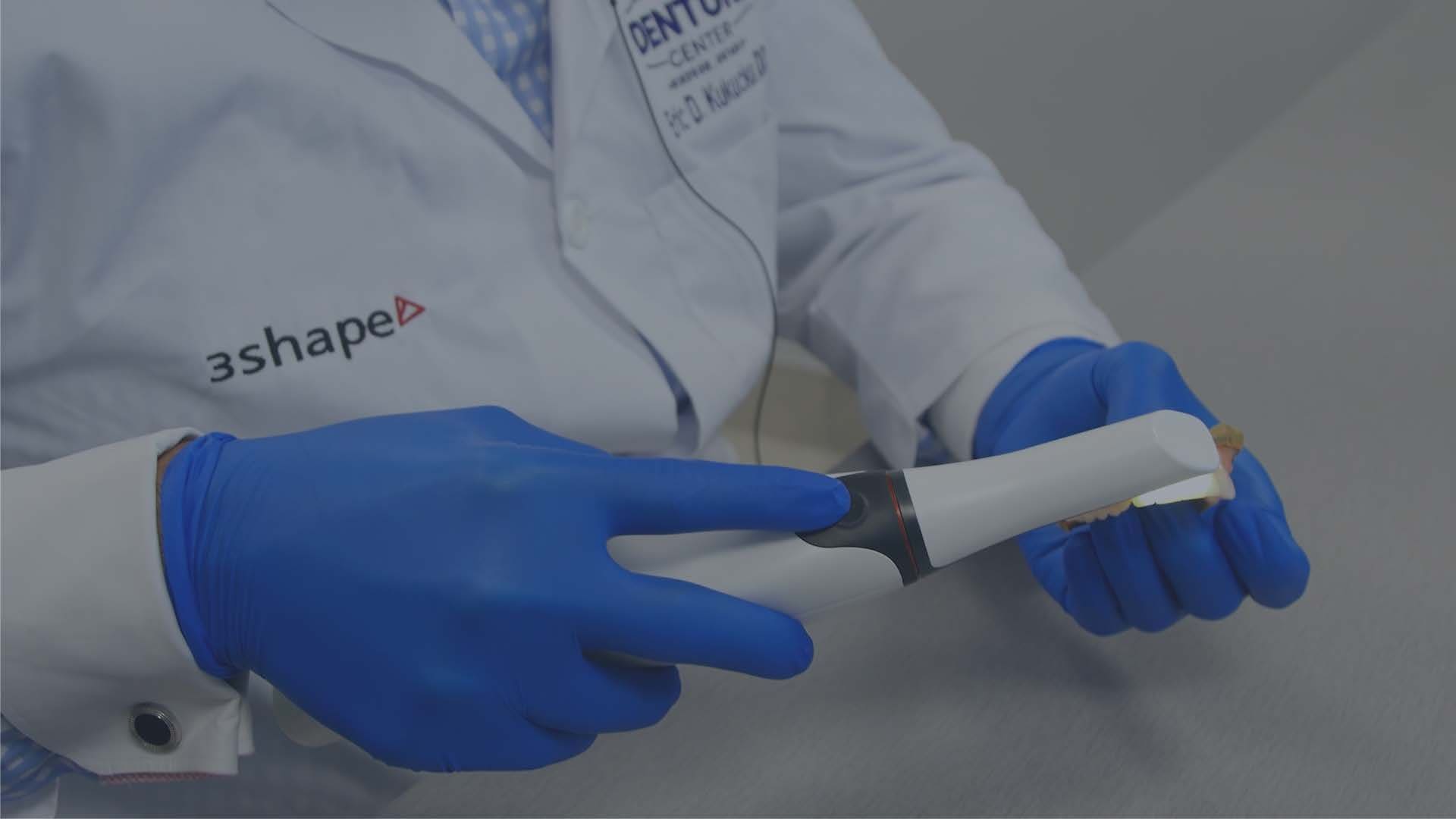 The future of dentures is digital
Our intelligent dental software helps you produce full and partial dentures quickly, easily, and profitably.  
Digital Dentures for
Simple, flexible workflow
Whether for fully or partially edentulous cases, you work from preset options; copying existing dentures, scanning patients, or digitizing manual impressions.
Easier edentulous scanning
Minimize the manual impressions needed and make the process faster and more comfortable for the patient. Bite scanning (with 3D bite plates and wax rim) is made easier through preset options.
Best of two worlds
Since you digitize your conventional impressions, you benefit from the speed and improved communications with the lab that digital impressions bring — by having the physical impressions as back-up.
See how it works
See TRIOS in action in an edentulous workflow that covers scanning intraoral, impressions and dentures - easy for you and comfortable for your patient.
Save time and money with digital dentures
The days of analog dentures are numbered. Are you ready to adapt? Developments in our denture software and improved manufacturing methods present a great opportunity to shift your expertise to a digital platform. 3Shape Dental System® includes advanced CAD/CAM denture software that delivers razor-sharp accuracy with reproducible results for dentures with better comfort, fit, esthetics and strength – and at a much lower cost than your conventional denture workflow.
Dental System features leading tooth libraries and is compatible with a wide range of 3D printers and milling machines, giving you extensive design and manufacturing options in a single, smooth workflow.
Save time
Increase efficiency by automating several time-consuming design and production steps. 
Save money
Cut labor costs and material usage, so that you can focus on creativity and skill.
Increase quality
Get precise, repeatable results and more comfort for patients through digital accuracy.
Automate time-consuming processes
Our intuitive, quick-to-learn software automates much of the denture design process. This saves you time-consuming analog steps like tooth arch set up procedures, model analysis, and gingiva placement. The digital workflow also removes manufacturing steps including bite plate production and silicon and gypsum preparation, giving you time to treat more patients.
Save time on remakes, re-sets or replacements
CAD/CAM denture design eliminates the need for analog re-sets. Save significant time on tooth removal, wax removal and re-waxing, tooth resetting, processing, trimming and polishing. Simply correct your digital model in the software and save your patient time. The software also saves digital backup files of all dentures, so in the event of denture loss or damage, replacement prostheses can be created quickly without making extra patient appointments.
Save on labor and materials
For a lab, time is money, and digital production workflows save you hours vs. a conventional denture workflow. By digitizing labor-intensive analog steps, digital dentistry delivers substantial cost advantages on labor and materials. You can even start benefiting from production during your lab's downtime by configuring milling machines and 3D printers to manufacture CAD/CAM dentures throughout the night. Become a 'lab that never sleeps' and scale-up production without hiring extra staff.
For denturists, a digital workflow also decreases chair time and reduces the number of necessary patient visits, delivering further savings in labor costs and letting you see more patients.
Increase quality


Comfort – Intraoral scanners remove the need for uncomfortable conventional impressions.


Fit – Digital scanning accuracy and modern materials enable you to create dentures with better fit and retention.


Esthetics – Our software features official teeth libraries from Ivoclar Vivadent, Candulor, Vertex Dental and more, giving you infinite options for creativity. A wide range of compatible milling machines produce lifelike dentures with natural morph, color, structure and reflection.


Strength – Create longer-lasting dentures from robust milling materials like MMA and PMMA.


See how Denturist Eric Kukucka uses our removable software and how it has helped to increase his denture productivity by over 50%.
Unrivaled open ecosystem
Choosing an open system is one of the best ways to access the most up-to-date technology, materials, partners and prices. With the 3Shape Dental System software, you can connect with manufacturing partners and secure the best options for your business.
Design services
Stay on top of demand by outsourcing your cases to our trusted providers for digital design assistance and total peace-of-mind.
Major teeth libraries
We work with a wide range of tooth libraries, including Ivoclar Vivadent, Candulor, Vertex Dental and more to give you unlimited creativity.
Milling machines and 3D printers
Our trusted connections with a wide range of manufacturing options makes production easy and ensures your workflow won't get stalled.
Free training videos
Set your learning curve in motion on our YouTube channel, offering a wealth of digital denture training videos. 
3Shape Community
The 3Shape Community is your source for how-to guides, best practices and open discussions with colleagues from around the world.
Design Services
Outsource your denture cases to our trusted providers for digital design assistance and total peace-of-mind. 
Contact your reseller regarding availability of 3Shape products in your region.