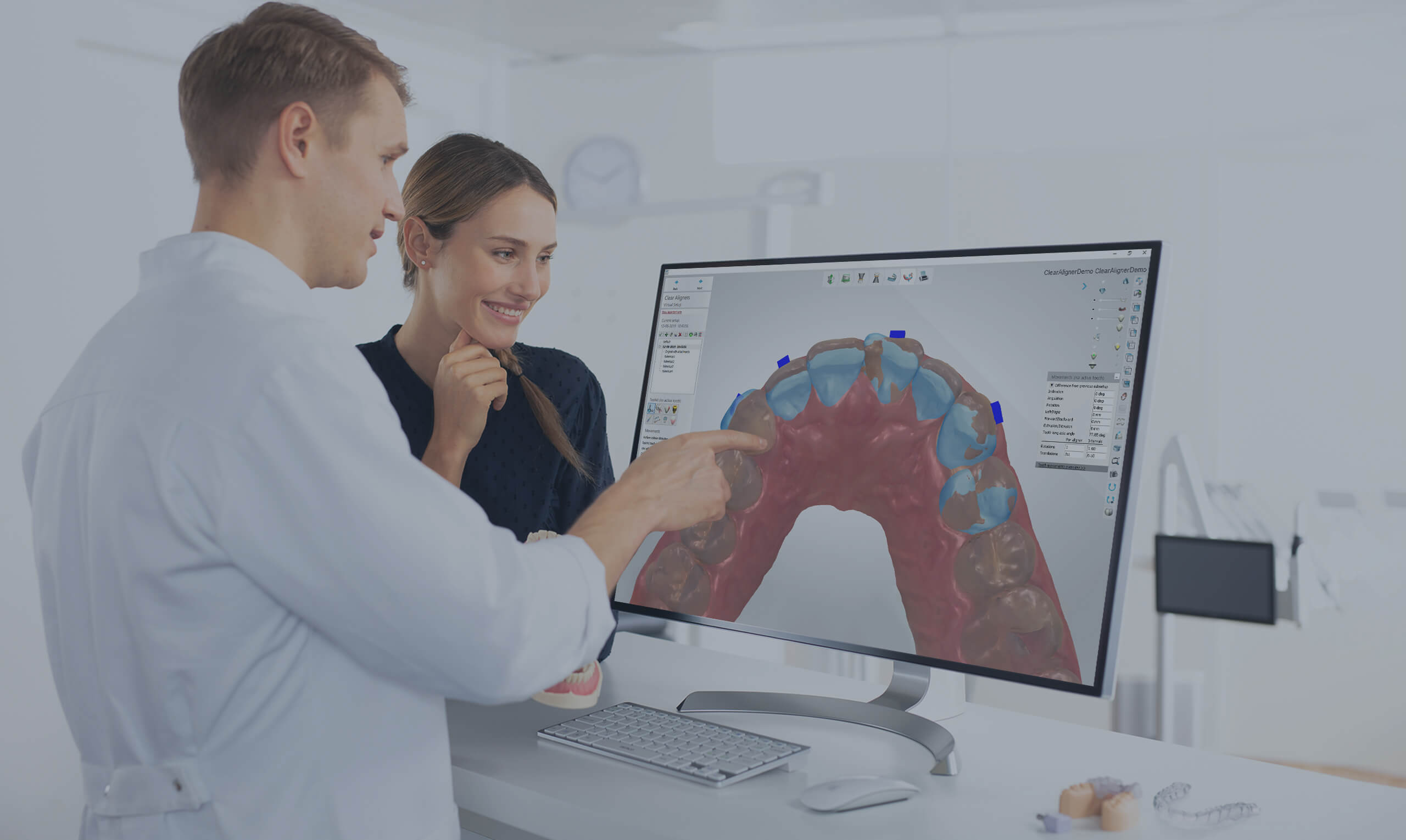 The clear advantages of a digital clear aligner workflow
Our intelligent CAD/CAM solutions enable you to get started with one of the most high-demand treatments on the market: clear aligners. 
The market has opened up
It is one of the fastest growing areas within dentistry. Also, the days of analog treatments are numbered. Now is the time to start growing your business with clear aligners, one of the most in-demand treatments of today. Let us show you how to start offering this indication digitally. If you first want to calculate your return on investment, use our clinic and lab ROI calculators to see how much it can benefit your business.
A typical digital clear aligner workflow starts with scanning and planning. Next, you need to produce and finish the aligners. All steps can be controlled in-house or outsourced to external partners, if you choose the 3Shape open workflow. 
How to make clear aligners
Scan
Every digital treatment starts with an accurate impression.
Our award-winning TRIOS intraoral scanner is ideal for high-accuracy, full arch scanning with realistic colors. Engage your patient for increased case acceptance with the TRIOS Treatment Simulator.
A 3Shape desktop scanner gives you highly accurate results for scanning models.
Plan and design
Plan and design clear aligner treatments with full control of the workflow with Clear Aligner Studio software: the all-in-one software solution for orthodontic analysis, setup and staging, and preparation of production files.
Produce
Print the dental models with an open choice of 3D printers and thermoform models to create the basis of the physical clear aligners.
Cut and finish aligners
The final step entails cutting and finishing the clear aligners. Both scissors and rotary tools can be used to cut and polish the aligners so there are no sharp edges. The clear aligners are now ready for the patient.
Label and package
Finally, labelling and packaging the aligners is a great way to secure a differentiated and premium clear aligner product offering. We recommend that the packaging be functional (for easy assembly and optimally sized for shipping and storage) and to include exclusive branding for increased brand value.
To consider before starting
Do you want to take on the design yourself or outsource to a design partner?
Starting with a new indication can be daunting. How much do you want to invest in new equipment and skills? If you feel ready to take on the design yourself, you can do so with Clear Aligner Studio. If you rather outsource those steps to a partner, our integration with FullContour lets external experts handle design for you.
Do you want to produce in-house or outsource to a production partner?
Just as with designing, producing in-house can feel like a big step. If you already have a 3D printer or are ready to invest in one, then producing clear aligners in-house is a logical next step but if you feel that is a bridge too far, you can send your cases to a manufacturing partner. Find your preferred manufacturing partner with our list of TRIOS Ready Labs.
About Clear Aligner Studio
Our CAD/CAM software for design and production of clear aligners is an all-in-one solution. It can be used by clinics or labs that want to start offering clear aligners and unlock new business. It offers an open workflow, letting you take full control of the workflow or outsource steps based on your own desires.
Want to learn how to do it?
Our sales representatives can show you exactly how our products work and how they integrate with external providers to give you the flexibility of an open workflow.
Request demo
Contact your reseller regarding availability of 3Shape products in your region.