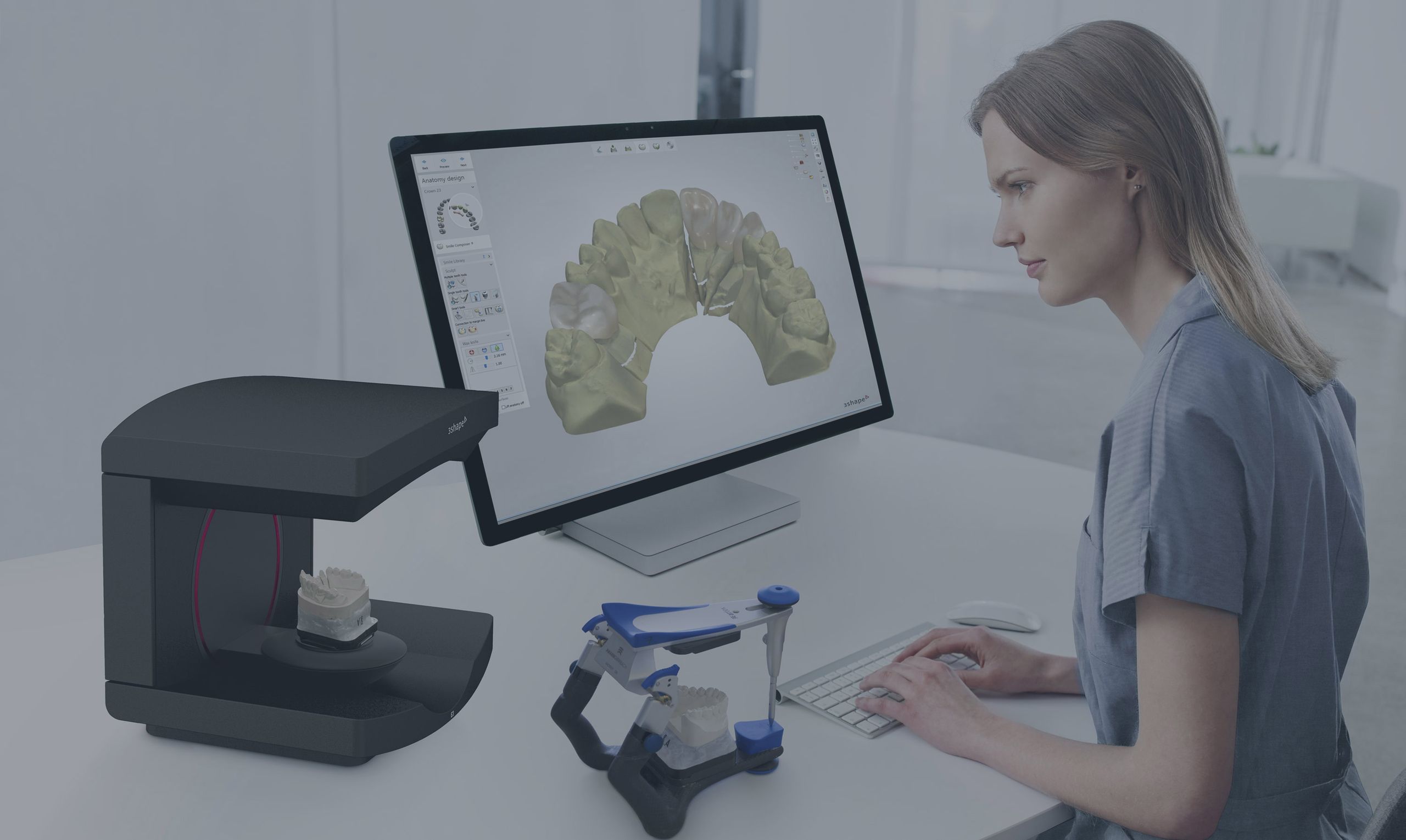 Becoming a digital dental lab has never been easier
Going digital is no longer a luxury – it's a necessity for dental labs to maintain business in the rapidly-changing dental industry. Whatever your lab size, 3Shape can help you with a powerful, future-proof digital solution.
Why
go digital?
In today's digital era, even the most cost-conscious labs need a solid Computer Aided Design and Manufacturing (CAD/CAM) system. More and more dentists are taking impressions digitally and using software to engage their patients. Your lab's ability to work with intraoral scans is crucial for your future.

Our digital lab solutions are scalable and come with the latest technologies for accuracy and speed, which means you can develop and grow at your own pace.



Compete and prosper
Many of today's labs are already digital and 23% of non-digital labs plan to evolve within the next three years*. When you go digital, you'll see how CAD/CAM extends your capacity with high-revenue lab service options, reduces your costs, and simplifies your workflow. 3Shape lab solutions are compatible with a wide range of other scanners, software, mills and printers. This means you can freely combine equipment, materials, and trusted 3rd party services as you grow. Your choice. Your pace. Your growth.
Increased accuracy, reduced labor time
"When we were producing analog it was getting difficult to see the details in the design and maintain consistent quality. By going digital, we reduced our labor time from 3 hours to approximately 1 hour and it's helped us open the door to clients that want to be on the cutting edge of technology."
John Zedan, president Zedan Laboratory, Michigan, United States
Digital lab workflow

in a nutshell 
Scan
Scan or receive cases digitally and save time and money on gypsum models. 3Shape offers everything from subscription-free, entry-level scanners to advanced scanning powerhouses1.
Design
Unleash your creative design potential with our simple software and access a wide range of treatment workflows and libraries - or communicate directly with trusted 3rd party designers through our open system. 
Manufacture
Produce in-house with your own mills and 3D printers - or communicate directly with trusted 3rd party manufacturers through our open system. 
digital solution for your lab
Get started 
Choose a digital CAD/CAM solution in three steps: scanner, software and service package, and manufacturing options. We can help you, one step at a time. 
Explore lab scanners

- a scanner for every need and budget

Making the transition from conventional to digital starts with hardware. Our award-winning scanners help you go digital with a complete capture of preparation, proximal and contact areas.

From the entry-level E1 to the faster, more accurate and more advanced E4 and D2000, we have scanners to fit every lab.
Choose design software

 and access the widest range of treatment workflows 

After you've found a scanner that fits your needs, choose the right design software package. Our intuitive software lets your technicians easily design ready-to-manufacture dental restorations and other indications. Our Dental System or Ortho System software offers unrivaled access to intuitive treatment workflows, digital tools and libraries. 

Crowns, bridges and frameworks
With a guided workflow and automated design functionality, Dental System is a powerhouse for designing core indications such as crowns, bridges and frameworks.
Removables
Powerful improvements to 3Shape's Denture Design software and new possibilities within materials and manufacturing make it highly profitable for labs to produce dentures digitally.
Abutments, implant bars & bridges
Dental System has powerful tools for designing abutments, screw-retained crowns and bridges, implant bars & bridges. And we are cleared for use in the US by the FDA.
Model design
Easily design and produce models from digital intraoral scans and impressions.
Telescopes, temporaries & post'n'core
Dental System has the widest range of treatment workflows enabling you to do telescopes, temporaries, virtual diagnostic waxups, post'n'core, tabletops, positioning guides and more.
Splint design
Our completely new Splint Studio allows labs to easily produce all major single-jaw occlusal splint types with just a few clicks.
Smile design
3Shape Smile Design enables fast and easy creation of digital smile designs with photo-realistic simulations to show and engage patients.
Implant planning and surgical guides
With 3Shape Implant Studio you can easily design and produce surgical guides, offer implant planning and secure the restorative order.
Automate
Support your lab's additional dental crown design needs in 5 minutes with AI-powered open platform 3Shape Automate.
Clear Aligners
Clear aligners represent one of the fastest growing areas within dentistry. 3Shape Clear Aligner Studio allows for labs to enter this highly profitable market by incorporating clear aligners into their offering.
Manufacturing options

- integrated and flexible

Dental System is a complete solution linking to a wide range of milling machines, 3D printers, manufacturing centers and implant library providers. This enables you to create high-quality restorations with the best materials in the industry.
Mills and 3D printers
Dental System supports and connects with almost any mill and 3D printer. Ask your 3Shape reseller for their range of mills, printers and supported materials.
Implant manufacturers
Work with all the major implant companies and get access to 90+ implant libraries.
Manufacturing centers
Dental System links to the best manufacturing centers in the world, giving you access to high quality restorations and the best materials in the industry. Contact your reseller to find out more.
3Shape lets you choose between two service agreements: a LabCare subscription with high-value services, or a Basic, no-subscription package. 
LabCare package 
3Shape's LabCare subscription package provides high value services such as unlimited upgrades, support, access to hands-on training and events and special product discounts. You can also add a five-year warranty and replacement service to secure your investment.
Basic package
A subscription is completely optional. The Basic package comes without a subscription and offers limited services free of charge. There are no free upgrades and you get the software version corresponding to the year of purchase. Support is available on a pay-per-case basis.
Whether you're new to digital dentistry and could use a hand getting started with your software, or a practiced digital technician seeking to enhance your skills, we are here to assist you. 
Free training videos
Our YouTube channel offers a wealth of Dental System training videos covering design workflows, system configuration, tips and tricks.
Face-to-face trainings
For more in-depth training, the 3Shape Academy offers training programs to match to your needs.
3Shape community
The 3Shape Community takes it even further with a professional platform for knowledge exchange and worldwide networking. 
Dental System - our solution for restorative labs.
Get brochure
Ortho System - our solution for orthodontic labs.
Get brochure
What does it cost to go digital? 
Before you decide, you probably want to know what the financial commitment looks like. Our trusted resellers can tailor a solution for your lab and your budget. 
Request demo
Contact your reseller regarding availability of 3Shape products in your region or country
*3Shape Market Survey 2019