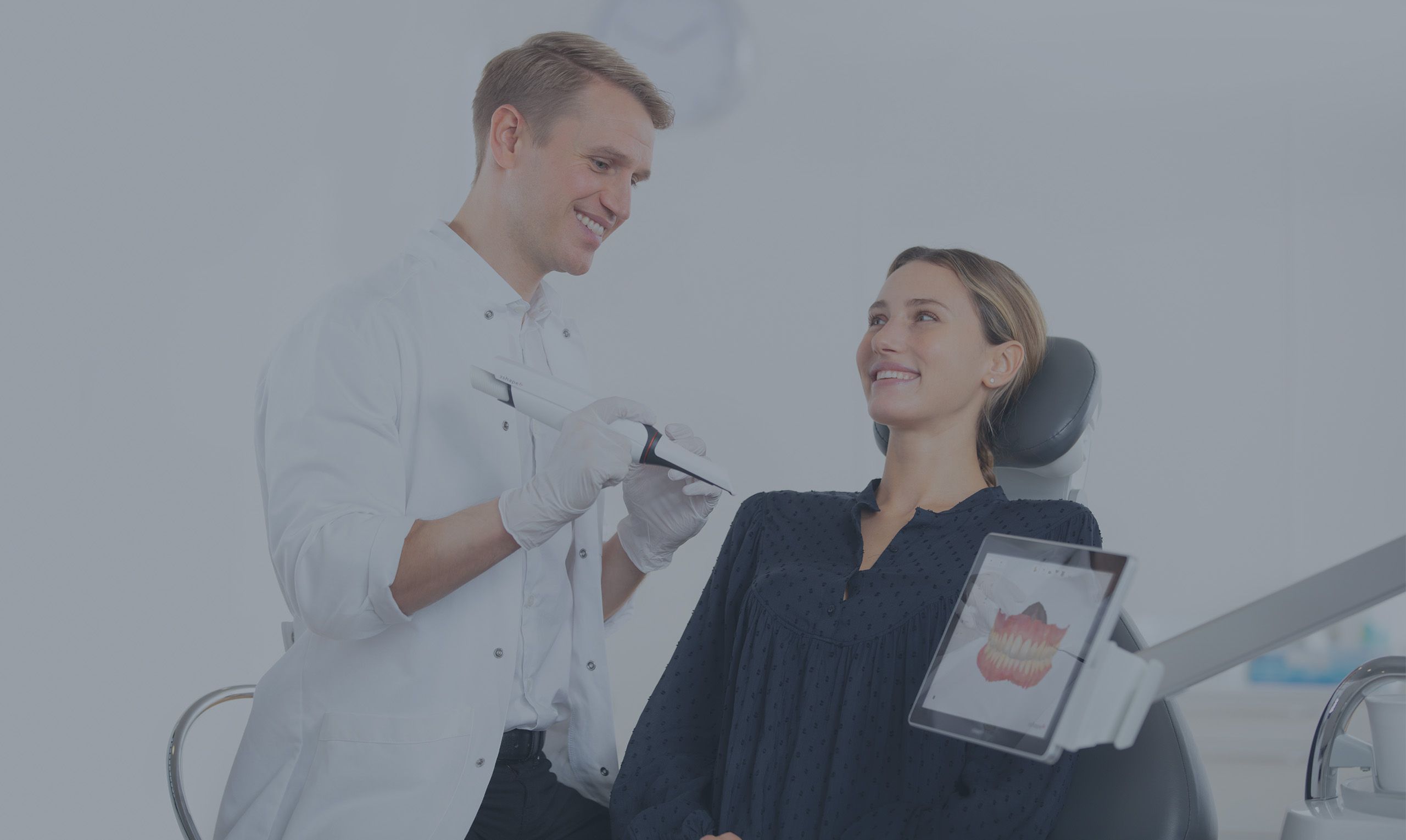 3Shape dental practice solutions
How to become a digital dental practice
Chances are your lab does it. Your patient wants it. On top of that, the technology is more mature and easier to use than ever. Now is the time for dentists to go digital. We can help you become a digital dental practice every step of the way.
Affordable, easier and loved by
patients
Going digital and beyond analog dentistry means that you skip the conventional impression and start treatments with an intraoral scan. The technology is already being used by many doctors, and it's now more affordable and easier to use than ever.
Digitizing your workflow saves you time, increases quality, and makes communication with your lab simple and fast. And most importantly, your patients will love it because it makes it easier for them to see and understand what you're doing. The 3D digital impression enables you to engage them by showing areas of interest, treatment proposals and treatment progress on-screen.
The digital workflow in a nutshell 
Scan your patient
It all starts with a digital 3D intraoral scan. Scanning is done within a few minutes. Pick a scanning setup that fits to your situation - from an entry-level send-to-lab solution to an advanced wireless scanner, excitement apps and in-house design solutions.
Engage with visuals
The digital scan is a perfect starting point for visualization. Our engagement and excitement apps make it easier than ever to communicate with your patient and increase acceptance of your treatment proposals.
Monitor over time
Scanning every patient every time allows you to easily track development of their dental status and monitor treatment progress.
Send-to-lab
When restorative treatment is needed, you can send cases to your lab with just a click. Growth plans? Expand your digital solution with 3Shape software. Get the 3Shape TRIOS® Studio apps enabling you to design and produce in-house.
Digital solution for your practice
Get started 
There is no one-size-fits-all solution for becoming a digital dental practice. You deserve a digital solution that supports your specific needs and aspirations. 3Shape provides many options, and we can help you go digital, one step at a time. 
Scan your patient

with superior scan technology, tailored to your budget

3Shape offers award-winning intraoral scanners for every budget and need enabling any doctor to go digital. All our intraoral scanners come with the superior scan technology that TRIOS® is known for and use Artificial Intelligence making it easy to get great scans, no matter your level of experience. 
From scan-only to full-feature solution.
Engage and excite

 to give patient satisfaction a boost

Use our patient excitement apps to bring your patient's future look to life and increase case acceptance. You can send visualizations straight to their mobile phones so they see their new teeth and can share with friends and family. 
Smile Design
TRIOS Treatment Simulator
Show future smiles with
Smile Design
Show future smiles with
Smile Design
Take a photo of your patient's face and design their beautiful new smile in just minutes. Share the photorealistic results with your patient and stimulate treatment acceptance.
Grow orthodontic treatment with TRIOS
Treatment Simulator
Grow orthodontic treatment with TRIOS
Treatment Simulator
Scan your patient and show their present and potential dentition with just a click. Gain greater case approval by showing expected results of orthodontic treatment on-screen.
*Patient Excitement apps are not available for TRIOS 3 Basic
Monitor treatment

by tracking development 

When you have an intraoral scanner on hand in your practice you can start scanning patients every time they visit. The scans will enable you to detect issues, monitor changes and track treatment progression. Now you can offer more than only restorative treatments. Now you can offer patients a care model for continuous preventive aid.

What our technology can help you with
Detect problems – Detecting problem areas at an early stage
Monitor over time – Monitor teeth movement by comparing scans over time
Send to lab

of your choice

With the open and comprehensive TRIOS ecosystem, you can send scans to your preferred partners whether it's to a lab, a design service or any other treatment provider.

Our cloud communication solution lets you share files and collaborate directly with your preferred design or production partners. You can also purchase software add-ons for designing and producing indications in-house using your favorite mill or 3D printer. 
Full support to help you go digital
3Shape provides a variety of training and support services to help you get the most out of your digital solution, regardless of your experience level. 
3Shape Academy
The 3Shape Academy provides training and information about digital dentistry. It is driven by dental technicians and technology experts offering a continuous flow of beneficial knowledge, instructions, tips, and tricks. 
3Shape Community
The 3Shape Community is a virtual space where all 3Shape customers can get access to special events, additional training resources, webinars, instruction videos, knowledge base and a discussion forum. 
"Save time, see more patients"
"The effect on my practice has been tremendous. We save time using TRIOS digital dentistry solutions. Time where the doctors can be seeing other patients or leaving the office early."

Dr. Jonathan L. Ferencz
Want to take digital dentistry even further? 3Shape provides industry-leading scanners and fully integrated software that create highly streamlined processes for a wide range of dental treatments - so you can upgrade or extend your solution at any time. 
Restorative software
TRIOS® Design Studio gives you profitable same-day production options with seamless integration, trusted connections and compatibility with 3D printers.
Implantology software
Implant Studio lets you digitize your implant workflow with functionality to plan, design and print in one workflow and seamless integration to production partners.
What is my return on investment?
Before you decide, you probably want to know what the financial picture will look like. The answer to this is 'it depends'.  We recommend that you go through your practice's specific situation with an authorized 3Shape reseller. However, if you want to get a quick preview, use our smart ROI calculator today.
Quick calculation
Ask your reseller regarding availability of 3Shape products in your region.