Copenhagen, July 6, 2022 – 3Shape TRIOS® 4 intraoral scanner receives 2022 Cellerant "Best of Class" Award for intraoral scanners.
The award puts 3Shape TRIOS now alone on top as the only ten-time (ten years in a row!) winner of the prestigious industry award, which recognizes dental products.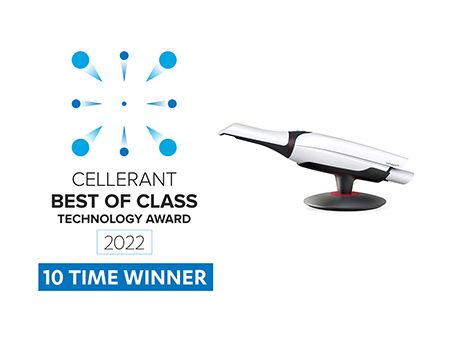 "We are very excited to present 3Shape TRIOS with our Cellerant Best of Class Technology Award. TRIOS is now our first ten-time winner of the award. The panel and I believe that TRIOS continues to grow as a solution, in terms of its usability, workflows, and integrations with other brands and partners. The intraoral scanner is truly helping to lead a change in dentistry by making it easier and more predictable for practitioners to embrace digital pathways," says Dr. Lou Shuman, Best of Class founder and Cellerant CEO.
3Shape TRIOS intraoral scanners are renowned for their documented accuracy, scanning speeds, ease of use, and peace-of-mind service. TRIOS provides professionals with an open and unrivaled ecosystem of optimized workflow and seamless partner-integrations with labs, orthodontic, implant-makers, practice management, and sleep treatment providers, as well as open and trusted manufacturing options with 3D printers and milling machines – all seamlessly accessible via its 3Shape Unite platform – included free with the scanner.
"What makes receiving the Cellerant "Best of Class" award so important for us is that it is presented by a panel of dental experts. These are judges who appreciate value and performance because they use the products every day in their work. We are very grateful to the panel for considering 3Shape. It motivates us to continue to push the envelope in terms of innovation and function," says Jakob Just-Bomholt, 3Shape Chief Executive Officer.
The 2022 Cellerant Best of Class Technology Award is selected by a panel of prominent technology leaders in dentistry: Paul Feuerstein, DMD, Editor in Chief for Dentistry Today, John Flucke, DDS, technology editor for Dental Products Report, Marty Jablow, DMD, known as America's technology coach, Pamela Maragliano-Muniz, DMD, editor-in-chief for Dental Economics, Chris Salierno, DDS, chief dental officer for Tend, and Lou Shuman, DMD, CAGS, founder and creator of the Best of Class Technology Award.
3Shape launched the TRIOS intraoral scanner in 2013. It has received the Cellerant "Best of Class" award for digital impression solutions every year since - ten years in a row.