Copenhagen, February 17, 2016 – 3Shape announces that the U.S. Food and Drug Administration (FDA) has granted (510k) USA market clearance for the latest version of its Implant Studio software, which features an edentulous patient treatment workflow.
3Shape Implant Studio software merges CT/Cone Beam CT imaging with 3D digital surface scans of the teeth and gingival situation to provide a digital view of dental patients. This enables dental professionals to evaluate the clinical situation, including bone density and nerve positions, for creating prosthetic implant planning and surgical guide design.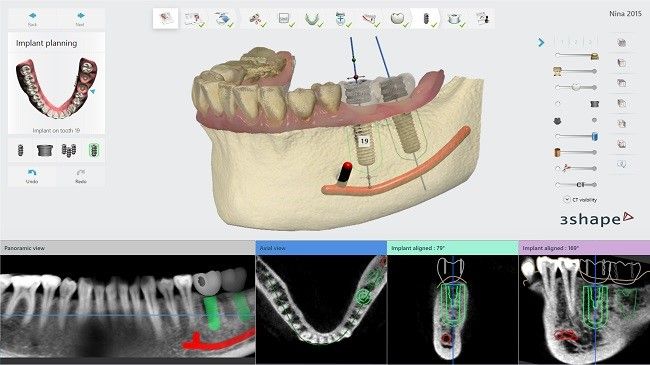 Implant Studio™ introduces a dedicated workflow for implant planning and surgical guide design for edentulous patients. Edentulous patients can now be treated by using only CBCT/CT scan data and through the application of a dual scan protocol. The latest version of the software also features more than 20 new functional improvements including, the ability to manual align scans, gingiva-supported surgical guides and an innovative two-piece guide design. In addition, surgical guides designed in Implant Studio™ are optimized for milling and/or 3D printing.
"3Shape is very excited to receive FDA (510k) market clearance once again for our Implant Studio software. Importantly, the newest version has now added an edentulous patient workflow. This is extremely valuable as people of all ages are choosing dental implants to meet their restorative needs. Implant Studio™ provides dental professionals with an easier-to-use and more efficient workflow for caring for their patients," says Flemming Thorup, 3Shape, president and CEO.
The dental implant market in the U.S. is projected to reach $5 billion by 2018 with 3 million Americans already having implants. That number is predicted to grow by 500,000 per year, according to the American Academy of Implant Dentistry.
Implant Studio™ is available through 3Shape resellers. Availability to end-users will depend on the specific system configuration.
3Shape experts will be demonstrating Implant Studio™ including complete workflows using intraoral and CBCT scans at the 2016 Midwinter Meeting in Chicago, February 25-27.
For more information about Implant Studio™, please click here.
See Implant Studio™ training video series:
https://www.youtube.com/playlist?list=PLCWnYzDhJOgOutlSxX_0rH1UneXU03XKO