Copenhagen, August 6, 2015 — 3Shape TRIOS® 3 digital dental impression solution receives the 2015 Pride Institute "Best of Class" Technology Award. This marks the third year-in-a-row that 3Shape TRIOS® and now the new generation, TRIOS® 3, wins the award.
The Pride Institute "Best of Class" Technology awards are presented annually to global products that deliver "Best of Class" value to dentists and the dental industry.
Since its market launch in 2011, 3Shape TRIOS® has received numerous awards including now, the Pride Institute "Best of Class" Technology Award for the third year-in-a-row.
Dental professionals have been raving about the new TRIOS® 3's fast intraoral scanning speeds and simple-to-use technology since its introduction at the 2015 IDS conference in Germany.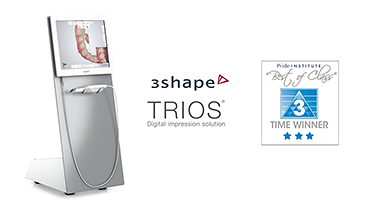 TRIOS® 3 features:
Superior scanning technology
Shade measurement and integrated intraoral camera
Widest range of indications backed by dedicated workflows
Open and flexible for any lab setup
Flexible hardware configurations
"Digital impressions and the digital workflow are probably the fastest-changing technology in the dental industry. 3Shape has moved rapidly forward with advancements in the TRIOS scanner that differentiates it from all the others. The TRIOS intraoral scanner truly captivated attendees at the IDS show in Cologne. Its speed, accuracy, true color, shade measurement, integrated intraoral camera and new software make it easy to use and quite predictable. The fact that most laboratories utilize 3Shape design software, which can also be used with any digital impression system, gives a bit more credence to the reliability of this unit," said Dr. Lou Shuman, creator and founder of the "Best of Class" Award.
Discover more about TRIOS
Watch TRIOS video - https://youtu.be/0rFdh7n8Whw
About Pride Institute Best of Class Technology Awards
The Pride Institute "Best of Class" Technology awards were launched in 2009 to provide an unbiased, non-profit assessment of available technologies in the dental space.