Copenhagen, February 25, 2015 - 3Shape A/S will officially launch Implant Studio™ software in the United States at the opening of Midwinter Meeting in Chicago, tomorrow, February 26.
Dental labs and dental practices use Implant Studio™ for prosthetic driven digital implant planning and surgical guide design.
Implant Studio™ merges, within the software, cone beam (CBCT) images with intraoral 3D digital impression files. As a result, dentists and dental labs are able to evaluate the clinical situation digitally, including the assessment of bone density and nerve positions prior to implant surgery.
Dental labs are then able to design as well as manufacture restorations and implant components, such as temporaries, crowns and abutments based on Implant Studio's™ planning information. Labs can also design and print surgical guides using Implant Studio™. Surgical guides are then used by dentists to direct drilling during implant surgery.
Implant Studio™ technology enables dental labs to provide complete implant treatment packages prior to surgery. And for dentists, to deliver a full range of implant services to their patients.
In addition, dentists and labs can communicate and share files in real-time during implant planning and surgery via 3Shape Communicate™ software as well.
Leading prosthodontist and 3Shape Advisory Board Chairman, Dr. Jonathan L. Ferencz commented on what 3Shape digital technology has brought to implant planning by saying, "The difference digital dentistry has made to making a crown is tremendous. But the difference it has made in implant dentistry is night and day!"
Implant Studio™, as with all relevant 3Shape software, is open to standard DICOM CT and intraoral STL scan files. Dental professionals are able to access top implant systems (libraries) from major implant manufacturers from within the software.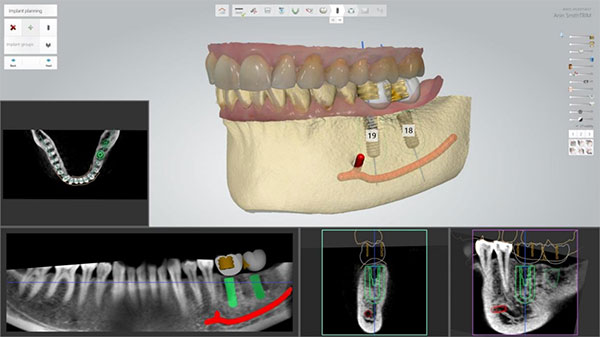 Implant Studio™ is part of the 3Shape ecosystem of digital dentistry solutions including 3Shape's industry leading, Dental System™ for labs.
Implant Studio ™ highlights:
All restorative components can be provided to the dentists before surgery.
Easy implant planning with intuitive tools that merge the benefits of planning in both 3D and 2D.
Virtual crown functionality - optimal implant placement in combination with the intended prosthetic design.
Surgical guides - design cost-efficient surgical guides ready for local manufacturing.
3Shape Communicate™ integration –receive 3D surface scans - from TRIOS® and from 3Shape desktop scanners, and send approved implant positions for designing abutments and crowns in Dental System™ with a click.
Access implant systems (libraries) from major implant manufacturers within the software.
Open software platform - supports open DICOM CT scans and STL surface scans.
Implant Studio™ received U.S. Food and Drug Administration (FDA) (510k) market clearance in November 2014. It is available in various configurations for both dental practices and labs.
Implant Studio™ can be purchased through 3Shape resellers. Actual availability to end-users will depend on the specific system configuration. Please contact your local 3Shape supplier, or visit Support page regarding reseller information. For more information, please visit 3Shape Implant Studio™.