Copenhagen, January 13, 2014 – 3Shape, the user-acclaimed leading innovation company for 3D scanners and CAD/CAM software solutions, has released a unique CAD software tool to the dental market that enables labs to provide common dental appliances as a new service. The 3Shape Splint Designer™ is offered as an add-on module to 3Shape Dental System™. The new module offers labs a cost-efficient getting-started tool and opens new business opportunities for both dental labs and their dentist-clients.
"3Shape is continuously seeking ways to help labs compete through new service options and Splint Designer™ is a prime example," says Flemming Thorup, President & CEO at 3Shape. "3Shape's business model provides customers with valuable system upgrades, and this time, we are giving away a complete add-on module with high business potential to our Dental System™ Premium subscribers as a part of their LABcare™ package."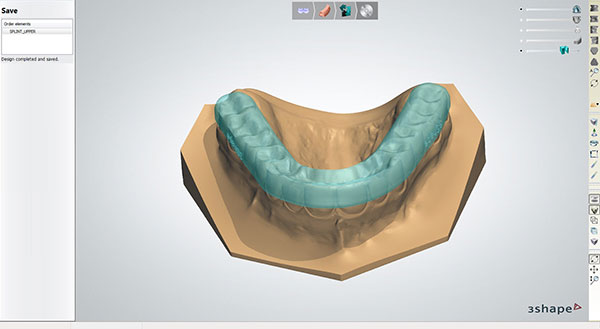 3Shape Splint Designer overview:
CAD design of occlusal splints.
Occlusal splints can be ordered directly through the Dental System™ Order Form.
An intuitive workflow guides users through the design steps: open the bite with a virtual articulator, create a shell, add a bar profile on top, combine both parts, and optionally "cut" the design with the antagonist in the included virtual articulators.
Option to engrave ID tags in the appliance for patient identification or branding of the lab.
Included free of charge for all 3Shape Dental System™ Premium subscriptions.
The new Splint DesignerTM module is a light version of the Appliance DesignerTM which is 3Shape's complete CAD toolbox for all types of dental and orthodontic appliances.
The 3Shape Splint Designer™ module is available with Dental System™ 2014 through 3Shape resellers. Availability to end-users is dependent on the specific system configuration. Please contact your local 3Shape supplier, or visit www.3shape.com regarding reseller information.